Declaration
property EXIF_HasEXIFData: Boolean;


Description
If True, the loaded image contains EXIF information tags. EXIF data is commonly added by digital cameras to provide meta data on a photo.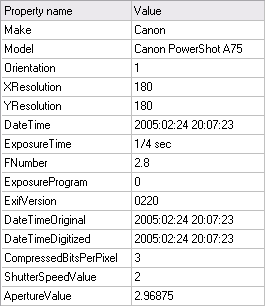 Note: If you do not wish to maintain the original EXIF info, set EXIF_HasEXIFData to False before saving.
Important Note: If an image is assigned from a
TImageEnView
to another, the EXIF tags is NOT automatically assigned.
To maintain EXIF data in the second
TImageEnView
, you must also assign the EXIF Data. This applies to all ImageEn "Display" components including TImageEnView.
Typical situations:
1) You want to maintain the EXIF data untouched:
Do nothing... (default behavior)
2) You want to set some EXIF fields, e.g.
ImageEnView1.IO.Params.EXIF_Software := 'ImageEn';
ImageEnView1.IO.Params.EXIF_HasEXIFData := true;
3) You want to remove all EXIF data:
ImageEnView1.IO.Params.ResetEXIF();
Demo
| | |
| --- | --- |
| | Demos\InputOutput\EXIF\EXIF.dpr |
Examples
// Remove EXIF data from image.jpg
ImageEnView1.IO.Params.EXIF_HasExifData := False;
ImageEnView1.IO.InjectJpegEXIF('D:\image.jpg');

// Update the GPS EXIF data in a file
io := TImageEnIO.create(nil);
try
io.ParamsFromFile( FilenameStr );

io.Params.EXIF_GPSLatitude := GPSLatitudeFloat;
io.Params.EXIF_GPSLongitude := GPSLongitudeFloat;
io.Params.EXIF_GPSVersionID := GPS_Version_ID;
io.Params.EXIF_HasEXIFData := True;

io.InjectJpegEXIF( FilenameStr );
finally
io.Free;
end;

// Update EXIF date for the current file
ImageEnView1.IO.Params.EXIF_DateTime2 := Now;
ImageEnView1.IO.Params.EXIF_DateTimeOriginal2 := Now;
ImageEnView1.IO.Params.EXIF_HasEXIFData := True;
ImageEnView1.IO.InjectJpegEXIF( ImageEnView1.IO.Params.Filename );


See Also
-
ResetEXIF
-
GetMetaData
---